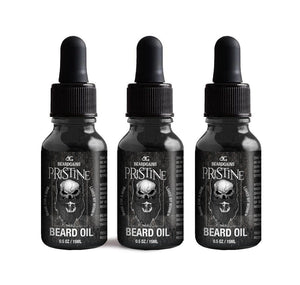 Pristine Beard Growth Oil 3 Pack
Pristine Beard Growth Oil is one of the most popular beard growth oils we offer.
What do you get?
3 x .5 oz Pristine Growth Oil
PRISTINE BEARD OIL INGREDIENTS
Your beard is part of your body so know what you're putting in your beard! Making a quality superior product isn't cheap! We encourage you to compare our products to the competition. It's important to know what you are paying for and understand the value based off what the product is made with and not just it's cost. Know the difference, see the difference, feel the difference. Beard Gains.


CARRIER OILS: Organic Jojoba Oil, Grapeseed Oil, Argan Oil
ESSENTIAL OILS : Fragrance (Naturally Derived)