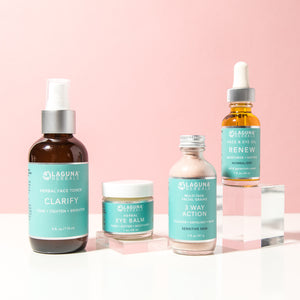 Sensitive Skin Routine
Get glowing with our complete organic skincare routine for sensitive skin.
This four-step facial routine keeps the skin clean, exfoliated and moisturized. 
 This formula contains an infusion of herbs that contain certified organic ingredients and anti-aging, antioxidant, anti-inflammatory, and preservatives. 
 Step 1 
MULTITASK Face Grain-Three Ways Measures 
Use it as a cleansing, exfoliating, and mask at once. This will save you time and money.
You can quickly scrub clean and exfoliate, or leave it on for more than 48 minutes to get the benefits of a mask. Can be used in the morning and / or in the evening. For best results, choose the one that suits your skin type for daily use and use the twice-weekly decoding formula for deep cleaning. Immediately your skin will become clearer and brighter! 
 STEP 2 
 Herbal Face Toner --CLARIFY 
 This toner is soft but effective and suitable for all skin types. Balances the skin's natural PH balance, exfoliates and brightens sunburned skin or spots. It also contains anti-aging herbal extracts that promote the growth of new cells, protect against free radical damage and are anti-inflammatory and antibacterial.  
 Use cotton balls or rub the spray into your hands. Dry the formula for 12 minutes and you will see results immediately. Proceed to step 3 to enjoy more herbs. 
 Steps 3
 Face and Eye Oil Renew 
Two Face Oil Formulas for Normal/Dry and Oily Skin and Eye Oil Formula contains high quality carrier oils infused with herbal extracts antioxidants that stimulate new cell growth Provides products that contain free radicals to repair cellular damage. 
 Put a few pumps on your hand and rub evenly all over your face. Can be rubbed directly on lines and wrinkles showing over-prescription. 
 Now, take 4 steps to complete the path to perfect skin! 
 STEP 4 
 EYE BALM 
An unique blend of three oils infused with hubs that promote skin cell regeneration, reduce inflammation and repair oxidative damage to the skin. It was made. This formula smoothes fine lines and wrinkles and brightens the area under the eyes. You can also use it as a make-up remover that won't poke your eyes this night! 
 This formula lasts day and night to protect the delicate areas under the eyes.