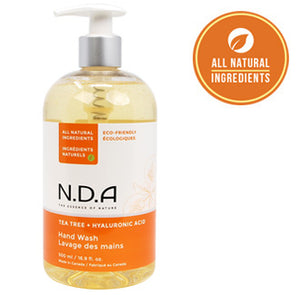 Tea Tree + Hyaluronic Acid Hand Wash 16.9 fl oz/473 ml
NOTE: This product is for final sale (non-refundable). We will not accept any returns or provide any exchanges for this product.

All Natural Formula
Enriched with Tea Tree Essential Oil and Hyaluronic Acid
This all-natural, eco-friendly Hand Wash is designed to provide a powerful yet soothing hand cleanses that leaves your skin soft, clean, and lavishly pampered. The unique formulation features no synthetic or toxic ingredients, and instead harnesses the sole power of skin-loving humectants and nourishing botanicals to deliver effective results without compromising on hand care. The Hand Wash acts as an excellent alternative for those who wish to clean hands effectively and thoroughly without the use of irritating, sensitizing, or harmful chemicals that could endanger skin health, our well-being, and our environment.
Our carefully selected ingredients naturally create a rich, airy lather that reaches all surface areas to help dislodge the dead skin cells, dirt, oils, germs, and potential pathogens that easily accumulate on our hands due to daily activities. Our star botanicals include 100% pure Tea Tree and Tea Tree Lemon Essential Oils, which work in synergy to fortify the skin and enhance the product's cleansing power. The unique addition of Hyaluronic Acid delivers instant hydration to avoid over-stripping the skin's natural oil balance while protecting its vital moisture barrier, making our Hand Wash mild enough to use even on sensitive, dry, or mature skin textures.
Directions for use: Wet your hands before dispensing a small amount of hand wash into your palms. Rub and massage hands together well for at least 20 seconds for an effective cleanse before rinsing thoroughly with running water.
Key Ingredients:
Tea Tree Essential Oil – A potent skin purifier known for its topical deep cleansing properties. It also helps improve moisture, calm inflammation, and balance skin oils.
Tea Tree Lemon Essential Oil – Works in synergy with Tea Tree Essential Oil to enhance its cleansing and purifying actions.
Sodium Hyaluronate – Powerful humectant that helps dry skin replenish natural hydration levels.