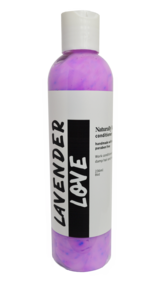 Lavender Love Conditioner
Straight Hair
1a
 1b 
  1c
Wavy Hair
3a
  3b
 3c 
Lavender Love Conditioner
Luscious Lavender Natural Conditioner. Made with lavender essential oils. 

Benefits:
restores hair's vitality and replenishes lost nutrients
smooths hair & adds healthy looking shine
suitable for all hair types
mad with silk, which prevents dehydration and strengthens hair
silk contains 18 essential and nonessential amino acids
How to Use: Work conditioner into damp hair and rinse. 
A note to our customers: Given the nature of our products being handmade in batches, there will be variation in product appearances and not all products will appear identical to product photos on our website. Thank you for your understanding!