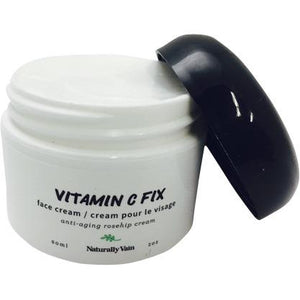 Vitamin C Fix (Anti Aging Cream)
Normal skin
 Combination skin 
  Dry Skin
Vitamin C Fix (Anti-Aging Cream)
Give your skin the youthful glow and appearance it deserves with Vitamin C Fix. Our anti-aging cream rejuvenates skin that is tired, irritated, and weathered. Pull double duty with it and use it as a moisturizer to help reduce stretch marks.
Benefits:
Vitamin C Fix includes Vitamins C and E to protect skin from environmental hazards and revive skin in need of some tender and loving care. Rosehip Refined Carrier Oil provides the moisturizing element to reduce scars and stretch marks. Vitamin C Fix is made from all natural ingredients and is safe to use on different areas of the body. It is a fantastic addition to any beauty cabinet and is sure to be a beloved gift. Anti-aging cream Helps with irritated and dry skin. Dual use as a moisturizer. Reduces stretch marks and scars.
How to Use:
Gently apply to face and softly rub in.