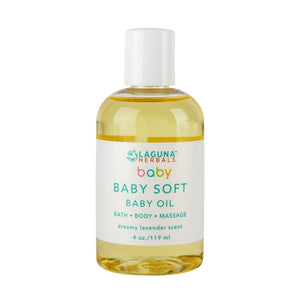 Organic Baby Oil
 Requires an additonal manufacturing time of 3-5 Days. Organic baby oil crafted from natural and organic ingredients with essential oil lavender scent. Protects the skin in many ways. Ideal for bedtime and body massage.
Ingredient Benefits
Apricot Kernel Oil rich in vitamin A, B and GLA.
Safflower Oil soothes and softens the skin.  
Sunflower Oil hydrate the skin.  Rich in vitamins A and E.  High in essential fatty acids.  
Lavender - skin soothing 
Chamomilekeeps baby's delicate skin soothed and protected.  
Rose lock moisture into the skin. Rich in vitamin C.
Calendula Oil Known propreties for centuries.  Provides natural anti-oxidant .  
Ingredients: *Helianthus Annus (Sunflower) seed oil, *Carthamus Tinctorius(Safflower) oil, *Prunus Armeniaca (Apricot Kernel) oil, *Anthemis Nobilis(Chamomile), *Rosa Dama Scena (Rose), *Lavendula Officinalis(Lavendar), *Calendula Officinalis (Calendula), non-gmo vitamin e, essential oil of lavender *certified organic ingredient