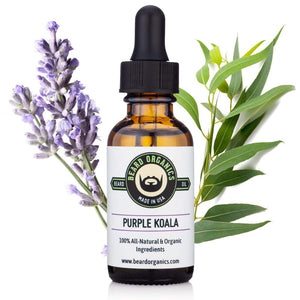 Purple Koala Beard Oil
If you're looking for a high-quality beard oil that has the potential to take your beard to new heights, you should search no more.
This Lavender Beard Oil combined with Eucalyptus Oil is just what you need, good scents from nature, and it contains only natural ingredients.
The calm & relaxing blend of Lavender Oil and Eucalyptus Oil gives you next-level nourishment for your beard, promoting beard growth and enabling you to enjoy a superior experience.
This beard oil has the following features:
Helps stimulate beard growth down to the follicles, which can boost beard growth
Contains antioxidants which help your skin
Excellent for stress relief with a calming effect on your skin
Purchase this amazing, lavender beard oil to help keep your beard in looking great all day long.
Directions: Shake gently. Apply a quarter size amount onto hands and gently massage onto beard and/or mustache, style & groom t il perfect .

Made with All-Natural & Organic Ingredients: Castor Oil, Avocado Oil, Grapeseed Oil, Eucalyptus Oil, Lavender Oil