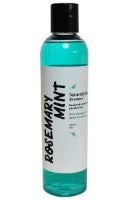 Rosemary Mint Shampoo
Straight Hair
1a
 1b 
  1c
Wavy Hair
3a
  3b
 3c 
Carefully blended with Rosemary essential oil and peppermint essential oil, to promote hair strength and growth.
Benefits:
Paraben Free, Gluten Free and SLS Free

Free of parabens, petrochemicals, synthetic fragrances and colors

Made with raw and active plant ingredients and 100% pure essential oils

Suitable for all hair types

Formulated with silk, preventing dehydration and strengthening the hair, leaving it soft, smooth and silky feeling
How to Use:
Lather with palms and massage gently into wet hair. Rinse thoroughly and repeat as desired. 
Volume: 8 oz. 
A note to our customers: Given the nature of our products being handmade in batches, there will be variation in product appearances and not all products will appear identical to product photos on our website. Thank you for your understanding!