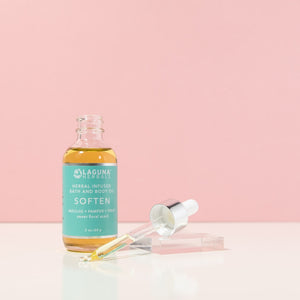 Soften Jasmine Rose Body Oil
 **Requires an additonal manufacturing time of 3-5 Days**
Organic body Jasmine Rose body oil crafted with 100% natural and organic ingredients
Our SOFTEN organic Jasmine Rose  body oil hydrates skin to feel silky and soft.  We have chosen a blend of pure natural botanical oils that is suitable even for the most sensitive skin.  SOFTEN is  lightweight and fast absorbing.  Our  herbal infusion featuring rose petals, lavender and chamomile flowers  has been slowly extracted into Apricot Kernel oil for added anti-oxidants and anti-inflammatory benefits.   Jasmine and Rose essential oils will add a romantic dose of aromatherapy to your day or night.   So go ahead and indulge after bathing or showering and/or add a few drops to bath water to enhance your self care ritual.
GREEN INGREDIENT BENEFITS
Cold Pressed Apricot Kernel Oil is moisturizing, anti-inflammatory. Rich in vitamin A, B and GLA.
Lavender soothes inflammation.
Chamomile soothes inflammation and promotes skin cell regeneration.
Rose contains vitamin C and can help protect skin cells from damage.  The natural oils in roses help to lock moisture into the skin and is a natural astringent which helps to tighten pores and restore suppleness.
Calendula has a high flavonoid content which makes it a versatile herb that contains antioxidant and anti-inflammatory carotenes. It has been used for centuries to make topical skin preparations to ease burns, eczema, psoriasis, insect bites, abrasions and other irritations.
Elderberry Anti-oxidant and age defying.   Bioflavonoids, which can also be found in elderberries are astringent, can tighten the skin and may reduce the look of stretch marks and aging.
Ingredients – *Prunus Armeniaca (Apricot Kernel) oil, *Anthemis Nobilis(Chamomile), *Rosa Dama Scena (Rose), *Symphytum Officinale(Comfrey), *Lavendula Officinalis(Lavendar), *Calendula Officinalis (Calendula), non-gmo vitamin e, proprietary blend of essential oils, Sambucus Nigra(Elder) Fruit Extract. *certified organic ingredient
2 oz/60g