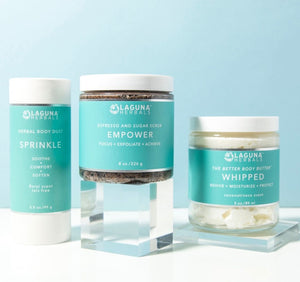 Wake up and smell the Coffee Scrub
This set is perfect for anyone who loves the scent of fresh brewed coffee to get going with beautifully polished skin.
Step 1 
Use the EMPOWER body scrub to gently, effectively and organically exfoliate the body. The exfoliating power of sugar mixed with espresso and extra virgin coconut oil will provide an unrivaled sensory experience, as this formula will infuse you with energy, motivation and mental focus, while providing many benefits to your skin. 
Recommended Use of 
: After 
 cleansing and rinsing with soap, apply an appropriate amount all over the body and rub to exfoliate and soften the skin. 
 Rinse and towel dry. 
 After use, rinse the shower or bath thoroughly. 
Ingredients * Saccharum Officinarum (sugar) sugarcane, * Arabica Coffee, * Cocos Nucifera (coconut) oil, * Carthamus Tinctorius (safflower) oil, Kokum Butter, Non-GMO Vitamin E, Sambucus Nigra fruit extract (Elder). 
 Step 2 
After you get out of the tub, pat it dry with a towel, then sprinkle a little of our non-toxic, non-talcum-free herbal body powder to dry. 
 This will keep skin calm, smooth and dry 
 Directions for use: Apply to skin as needed. To prevent moisture breakouts, place your hands in the folds of skin on your armpits, arms, legs, and wrists. 
Ingredients * White clay, * Maronta Arudinacea (arrowroot), * Althaea officinalis (Marshmallow) root, * corn starch, * Lavandula X Intermedia flower (Lavandin), * Damascene rose (Rosa), flower, baking soda, Proprietary blend of essential oils. * Certified Organic 
 Step 3 
Use our whipped cream to moisturize. 
 You will find that this luxurious emollient mixed with exotic butters can provide long-lasting hydration during the day or night. The combination of 4 types of raw butter provides long-lasting hydration. 
 This natural body butter can be used on the body, hands, feet or wherever moisture is needed. 
 * Results may vary from person to person 
 Benefits of green ingredients 
 * KOKUM BUTTER prevents dry skin. Heals ulcers and raw skin on lips, hands and soles. Regenerate skin cells and reduce skin cell degradation. 
 * Coconut oil contains medium-chain fatty acids, which help the skin retain moisture. It also has antibacterial properties and can protect the skin from infection. It acts as a barrier for the skin against external elements such as chlorine, salt water and pollutants. 
 * COCONUT BUTTER helps to heal the skin from the inside out. It is an important source of natural antioxidants in cocoa beans (the same type found in real dark chocolate, with benefits such as heart health and improved cognitive function). Saturated fats are particularly beneficial for treating dry, chapped skin because they are easily absorbed and stay on the skin for several hours. 
 * Shea butter Shea butter Rich in vitamins A and E, it helps cell regeneration and capillary circulation. Softens and hydrates the skin, helping to heal scars, cracked or damaged skin. 
 * Results may vary from person to person. 
 Ingredients - * Cocos Nucifera (Coconut) Oil, * Butyrospermum Parkii (Shea) Butter, * Theobroma Cacao (Coconut) Butter, Garcinia Indica (Kokum) Butter, Vitamin E Nongmo * Certified organic.